Indulge in the Ultimate Bath Experience with Susan Dunn® Spa Tabs"!!

We have expanded our world of luxury with the introduction of Spa Tabs"!, a line of special bath seltzers designed to tantalize the senses and enhance relaxation. Spa Tabs"! fizz for a satisfying 12-minutes, turning clear water into dreamy shades and evoking a clean fresh fragrance for your bath (leaving no ring around the tub). Experience the tingling fizz, soothing color, and natural aromatherapy fragrances of Canadian Fir, Chinese Geranium, Lavender, Patchouly and Pine.
The use and health benefits of color have been studied throughout the world for centuries. While the colors we have chosen for our Spa Tabs"! are only a part of the whole experience, they are extremely important in reducing anxiety for anyone seeking relief from the stresses of life.
Choose the color that corresponds to your needs and mood: Turquoise evokes inner peace, relaxation, patience and quiet. Amethyst brings out spirituality and elevates consciousness. Emerald enhances balance, harmony, healing, growth and expansion. Colored bath water is wonderfully relaxing and soothing. Once you bathe in color it is hard to go back! A SPA bath will do wonders for You!
I am a firm believer in the importance of luxury baths. Water therapy is heralded by all of the experts as a stress reducer and I can verify that!
I LOVE my evening bath. After a long day there is almost nothing better than a SPA Bath, a glass of wine and a best seller novel. In 5-20 minutes (depending on my schedule) I feel like a NEW person! Robert likes the new relaxed me too! And for all of you rigid shower folk…hop in, relax and try one…you'll love it!
Spa Tabs"! are the perfect gift for someone who enjoys being pampered…including yourself!
RECIPE FOR THE ULTIMATE BATH EXPERIENCE!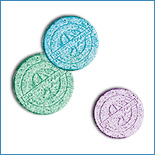 DROP a SUSAN DUNN SPA in ¾ full bath and experience the tingling fizz, soothing color and aromatherapy fragrances. SLIP your tired, achy body into the tub and relax! Optional Items include a good book, candles, music and a soft pair of SUSAN DUNN SPA SLIPPURRS®.